取代ACDSEE的免費軟體-FastStone Image Viewer
發表於 :
2008 6月 05 (週四) 8:58 am
取代ACDSEE的免費軟體-FastStone Image Viewer
執行速度很快,且檔案很小,又是免費的,比ACDSEE好用。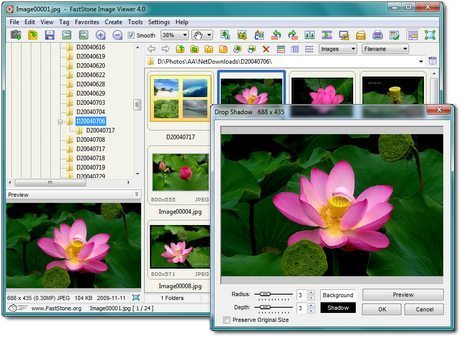 FastStone Image Viewer 3.5 Freeware 2008-01-15
[Rated 5 Stars at Download.com]
A fast, stable, user-friendly image browser, converter and editor. It has a nice array of features that include image viewing, management, comparison, red-eye removal, emailing, resizing, cropping and color adjustments. Its innovative but intuitive full-screen mode provides quick access to EXIF information, thumbnail browser and major functionalities via hidden toolbars that pop up when your mouse touches the four edges of the screen. Other features include a high quality magnifier and a musical slideshow with 150+ transitional effects, as well as lossless JPEG transitions, drop shadow effects, image annotation, scanner support, histogram and much more.
http://www.faststone.org/download.htm
下載
http://www.faststone.org/FSViewerDownload.htm
大家可以下載 portable版本,免安裝,直接下載存在隨身碟,到任何電腦都可以用。